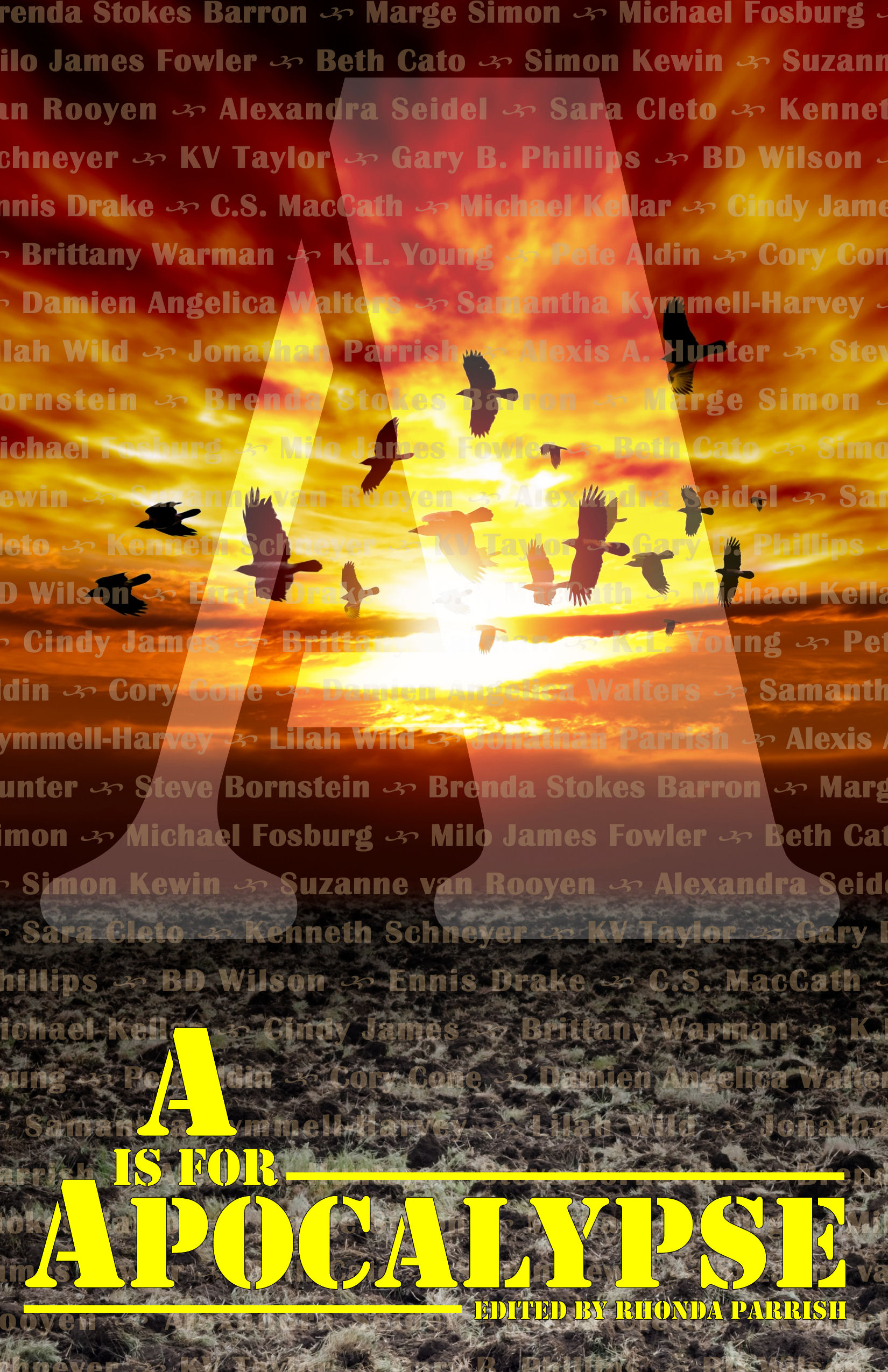 What do you get when you take twenty-six amazing writers, randomly assign them a letter of the alphabet and give them complete artistic freedom within a theme?
A is for Apocalypse
A is for Apocalypse contains twenty-six apocalyptic stories written by both well-known and up-and-coming writers. Monsters, meteors, floods, war–the causes of the apocalypses in these tales are as varied as the stories themselves.
Featuring all new work by: Beth Cato, Damien Angelica Walters, Kenneth Schneyer, Marge Simon and Michael Fosburg, C.S. MacCath, K.L. Young, Simon Kewin, Milo James Fowler, Ennis Drake, Alexis A. Hunter, Alexandra Seidel, BD Wilson, Suzanne van Rooyen, Brittany Warman, Sara Cleto, Pete Aldin, Brenda Stokes Barron, KV Taylor, Cory Cone, Gary B. Phillips, Lilah Wild, Steve Bornstein, Samantha Kymmell-Harvey, Michael Kellar, Cindy James and Jonathan C. Parrish.
Praise for A is for Apocalypse:
"In A is for Apocalypse, the world ends in both fire and ice–and by asteroid, flood, virus, symphony, immortality, the hands of our vampire overlords, and crowdfunding. A stellar group of authors explores over two dozen of the bangs and whispers that might someday take us all out. Often bleak, sometimes hopeful, always thoughtful, if A is for Apocalypse is as prescient as it is entertaining, we're in for quite a ride."
"A is For Apocalypse… is one of the "good ones", spending very little time in Mad Max guns-and-cars land and much more time on creative and imaginative works of short fiction around a compelling theme."
"A is for Apocalypse is a clever anthology that I'd recommend to anyone who is a fan of hard science fiction."
"Editor Rhonda Parrish gives us apocalyptic fiction at its finest. There's not a whimper to be heard amongst these twenty-six End of the World stories. A wonderful collection."
"…with an assortment of plots and genres (some horror, some science fiction, even a few dabbling in romance and humour) there's a little bit here for everyone. Fans of apocalyptic tales should find A is for Apocalypse entertaining…"
ISBN-13: 978-0993699016
ISBN-10: 0993699014
Series: Alphabet Anthologies
Cover art: Ig0rZh – Fotolia.com
Cover design: Jonathan C. Parrish
Story title art: Jonathan C. Parrish using stock art by okalinichenko
To request review copies or schedule a review, interview or other feature please contact Rhonda Parrish at rhonda.l.parrish [at] gmail.com