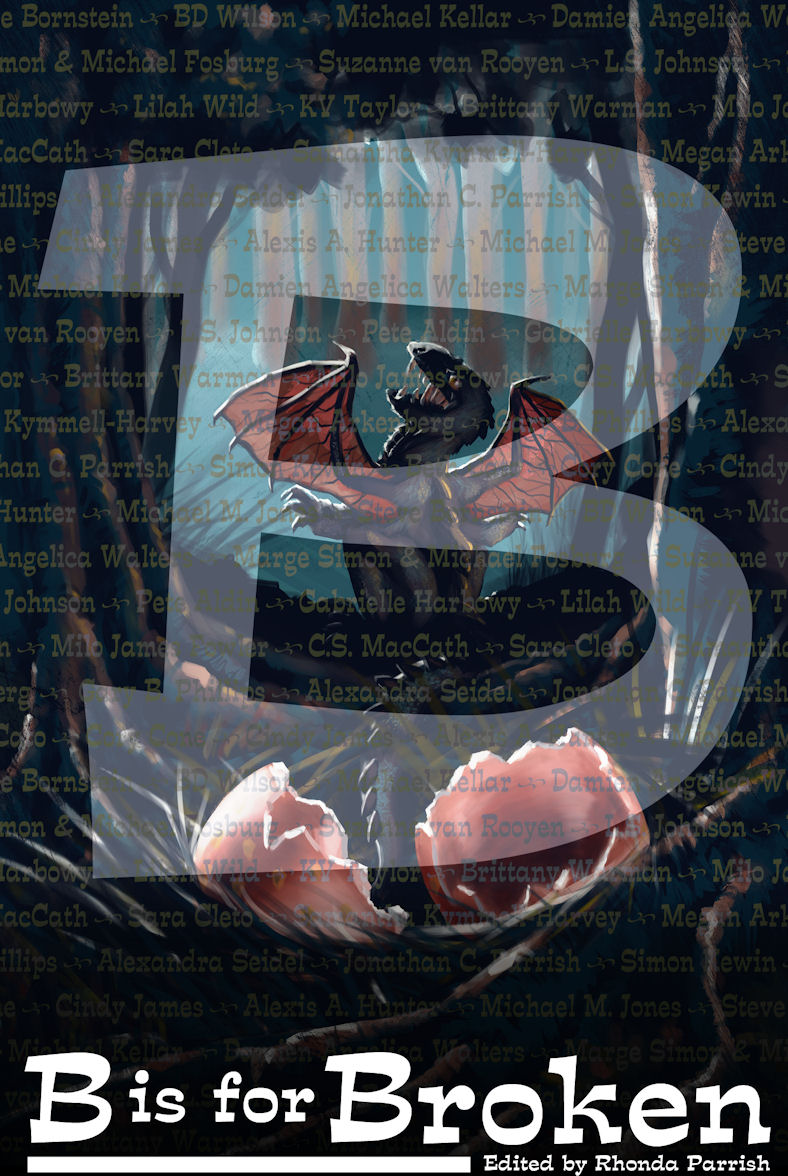 Broken people, broken promises, broken dreams and broken objects are just some of the ways these 26 fantastic stories interpret the theme of 'Broken'. From science fiction to fantasy, horror to superheroes the stories within these pages cover a vast swath of the genres under the speculative fiction umbrella.
Featuring original fiction by:
~ Brittany Warman ~ Milo James Fowler ~ C.S. MacCath ~ Sara Cleto ~ Samantha Kymmell-Harvey ~ Megan Arkenberg ~ Gary B. Phillips ~ Alexandra Seidel ~ Jonathan C. Parrish ~ Simon Kewin ~ Beth Cato ~ Cory Cone ~ Cindy James ~ Alexis A. Hunter ~ Michael M. Jones ~ Steve Bornstein ~ BD Wilson ~ Michael Kellar ~ Damien Angelica Walters ~ Marge Simon ~ Michael Fosburg ~ Suzanne van Rooyen ~ L.S. Johnson ~ Pete Aldin ~ Gabrielle Harbowy ~ Lilah Wild ~ KV Taylor ~
Praise for B is for Broken:
"This collection is a massive and magnificent assortment of truly enjoyable stories. There is simply no way to read this book  and not find a story you can connect with or love. This is the book to have in your travel bag. In it you are sure to find a tale to fit any mood. Each time you open it, a new adventure begins."
This doesn't happen very often when I read anthologies, but I enjoyed every single selection in this book…. I'd recommend B Is For Broken to anyone who loves contemporary science fiction as much as I do. There is a lot of great material to explore in this collection!
ISBN-13: 978-0-9936990-8-5
ISBN-10: 0993699081
Series: Alphabet Anthologies
Cover art: Victoria Hoke
Cover design: Jonathan Parrish
Story title art: Victoria Hoke
To request review copies or schedule a review, interview or other feature please contact Rhonda Parrish at rhonda.l.parrish [at] gmail.com